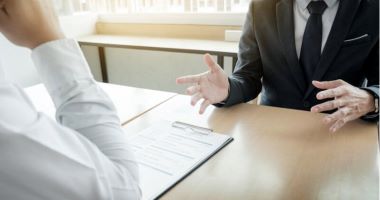 طلب وظيفة بالانجليزي (10 نماذج جاهزة)
طلب وظيفة بالانجليزي
Lee Jimenez
483 Apple Street
New York, NY 10001
(212) 555-8965
[email protected]
September 15, 2019
Sarah Jenkins
Recruiter
Rogers Consulting
901 Main Street
New York, NY 10001
Dear Ms. Jenkins,
I am reaching out to you regarding the posting for the human resources consultant position I found on Indeed.com. I have a great interest in this position and would appreciate your consideration as a candidate for the role.
In my previous experience, I worked in human resources departments to provide support across several different industries. I have worked in my current role as a human resources generalist for the past four years. Prior to this job, I worked as a human resources assistant for two years, which shows my ability to advance in my career.
I have a strong passion for helping others, which is why I have found such fulfillment in human resources, providing support to my fellow employees and assisting them in ways that benefit them both personally and professionally. I also enjoy looking for solutions to common HR problems, which I feel would be a great asset in the position with your company. Since this consultant position works directly with multiple clients, assisting them in their human resources needs, I believe my innovative nature and strong skill set will help me succeed.
I have strong communication skills, which are vital to success in the HR field. I also have a bachelor's degree in human resources from Arizona State University. Throughout my education, I worked with skilled human resources professionals who have shared their insights and experience with me. Some of my strongest skills include my ability to increase employee retention through the improvement of company culture and to develop training and education programs to ensure all employees have access to the information they need to succeed and comply with legal requirements.
I appreciate your time in reviewing this letter and hope to hear from you in regard to the next steps in the hiring process. If you have any questions or need any additional information, please don't hesitate to contact me.
Sincerely,
Lee Jimenez
نموذج خطاب تقديم على وظيفة بالإنجليزي
Sept. 2nd, 2021
Jessica Doe
81 Federal Ave.
New York, NY 10001
(908) 771-1091
[email protected]
Dear Ms. Doe,
I was excited to see your job listing for the Senior Digital Marketing position at Westward Strategies on Indeed.com. As a dynamic email marketing specialist with over two years of professional experience executing market research, analyzing consumer data, and running A/B tests to drive successful marketing campaigns, I'm confident that I would be a valuable asset to the team at Westward.
Your job listing mentions a need for someone who is experienced in email segmentation and campaign development, both of which are areas I have extensive experience in. I'm currently employed at Marketed Inc., where I've honed my skills by running numerous successful email marketing campaigns. While employed here, I've spearheaded a digital promotion campaign for the company's new line of sandals that successfully raised our total online engagement by an impressive 13% over the course of six months, contributing substantially to the department's annual goals.
I'm confident that my proven track record of excellent work ethic, unparalleled attention to detail, and high-performing email marketing campaigns will make me an immediate asset at Westward Strategies, and allow me to contribute to the team's success.
I look forward to discussing the Senior Digital Marketing position and my qualifications with you in more detail. I'm available to talk at your convenience. I'll be in touch next week to follow up and to make sure you've received my application.
Thank you so much for your time and consideration.
Sincerely,
[Your Name]
رسالة طلب وظيفة بالانجليزي اول ثانوي
Karen D. Valenzuela
Assistant Manager – Retail Operations
3582 Broadcast Drive
Reston, VA 22090
July 6, 2019
Frances J. Willis
Owner
Willis Wearables
4025 Kildeer Drive
Norfolk, VA 23510
Dear Frances,
Presently, I'm the retail operations assistant manager for Reston Raiment, but I just today saw your advertisement for a manager at Willis Wearables and I'm excited to put forth my application. I've been a semi-frequent customer of WW over the years, and I've always adored the quality of your products and the helpfulness of the staff.
During my managerial career, I've acquired many skills and much supervisory knowledge. These abilities, coupled with my 5+ years of management experience, make me a strong contender for this position, I believe. On top of those mentioned things, I'm also honored to have achieved some important small successes, including:
Reduced employee turnover rates by 50% by creating a healthier, more family-like work environment.
Cut overhead costs by around $3,000 per month by implementing sustainable electronics and devices throughout the store.
Increased sales by 30% (2018 vs. 2017) in the holiday season by spearheading a new sales and marketing campaign.
These are but a few examples, but I hope they help to show you my management experience, a love for the job, passion, and dedication. I'm eager for the opportunity to bring these characteristics over to a store I've always admired.
If you'd give me the chance, I'd love to show you how I can build upon your current success and take Willis Wearables to the next level.
Sincerely,
Karen D. Valenzuela
نموذج طلب توظيف انجليزي doc
Emma Faran
SHRM-CP
937-602-3818
[email protected]
linkedin.com/in/emmapfaran
@EmmaPFaran
Anytown, 4/25/2019
Ms. Margaret Cole
Head of Human Resources
XYZ Inc.
3015 Park Drive
New York City, NY 10923
Dear Margaret,
When Ann Smith told me about the opening for an HR Coordinator with XYZ Inc., I immediately knew this role would allow me to deliver groundbreaking results for your team.
I know your major upcoming challenge is to build and scale a self-reliant sales team in California. In my current position as HR Manager with ABC Corp., I've increased the number of employees in the product team from 3 to 22 in 13 months, with cost per hire averaging below $3,100 (41% below industry average). I'm sure I will be able to translate my experience into HR excellence for XYZ California.
Also, please let me be open about this, I have looked up to you ever since I got into the HR industry. The article you wrote for The New Yorker, "Why Culture Eats Strategy for Breakfast," has greatly informed and inspired my own professional mission statement: "Build habits, not goals." I would greatly value the opportunity to work in a highly driven team of like-minded professionals.
Can we schedule a call next week to talk about achieving your number of contractors goal while cutting lead time for recruiting and ensuring ultra high employee retention?
Kind regards,
Emma Faran
937-602-3818
[email protected]
رسالة طلب وظيفة بالانجليزي
James Nguyen
610 Cedarwood Road
Billerica, MA 01821
June 23, 2019
Jason Swordfish
Human Resource Department Head
Blockchain Capital
1 Franklin St, 37th FL
Boston, MA 02110
Dear Jackson,
As a front office assistant currently closing out my bachelor's degree in human resource management, I was elated to come across the call for a new office assistant at Blockchain Capital. I've honed my administrative skills and organizational abilities in these last two years, and I know I have the drive and determination to take on the office assistant role at your more challenging company.
Though my human resource management degree definitely provides me with great insight into the day-to-day workings of a modern office workplace, it is my current front office role which provided me with the skills and development to become a great candidate for this position. As a front office assistant with Gorkus Maloney Partners, I'm very proud of several clerical accomplishments, including:
Managing an influx of new administrative processes through a 125% staff increase after our acquisition by Horace Global;
Decreasing travel and accommodations expenditure by 15% by establishing new corporate travel partners;
Adopted tasks of second front office assistant when he left, thus saving around $2,500 in salary each month.
As you might be able to tell from these few achievements, I always perform my tasks with pride and ownership. If I see an opportunity where I might be able to make a change or adjustment for the better, I set my mind to it.
To sum up, working at your office would be the perfect balance of challenge and making use of my current skills. I'd love the chance to discuss in greater detail how I believe I am a perfect fit for the office assistant position at Blockchain Capital.
Sincerely,
James Nguyen 
طلب توظيف بالانجليزي
James E. Garcia
1165 Dancing Dove Lane
Washington, DC 20005
July 7, 2019
Mikaela Peltosaari
2832 Lake Forest Drive
Washington, DC 20005
Dear Mikaela,
Having just finished my university studies, I started seeking an entry-level position as an HR specialist. However, I then found your job advertisement, and I knew I had to apply to be your personal assistant. I've been a big fan of your motivational speeches and TED Talks, and one in particular ("When Problems Arise, Close Your Eyes") got me through my exams and gave me the push I needed to succeed in college.
I've been considered to be a jack-of-all-trades, and multitasking effectively and accurately is one of my specialties. While in college full-time, I also freelanced as a virtual assistant on-call and worked 25+ hours per week as an office clerk. Though I kept myself quite busy, I managed to succeed in all areas, such as:
Graduated Magna Cum Laude in May 2019 from Georgetown University.
Overhauled office calendar and events system to save 10% in costs due to finding mismanaged vendors and unnecessary events.
Managed travel arrangements, hotel stays, and transportation for over 50 complete trips.
I give my full energy and dedication to any project I take on, and I always see it through to the end. Those are but a small sampling of my productivity and success, but I hope it shows you how truly motivated and determined I am.
I'm really eager to pursue this opportunity, and I'd love to discuss with you further how I can take the load off your shoulders as your new personal assistant.
Sincerely,
James E. Garcia
رسالة طلب عمل بالانجليزية للسنة الاولى ثانوي
Your Name
Title
Current Company (If Any)
Mailing Address
Phone Number
Email Address
Date
Hiring Manager Name
Title
Mailing Address
Phone Number
Email Address
Dear [Hiring Manager Name],
Damon Furst, manager of Ripple Medical Clinic, called me "the most efficient, helpful receptionist on five planets." When he asked repeatedly how I did it, I said being helpful and efficient gives me a lot of personal pleasure. That's why I'm so excited about the receptionist opening at Tulsa Health Clinic.
Your ad said you need an efficient, helpful receptionist with 5+ years of experience. I've got 6 years, plus these achievements to back up Mr. Furst's nice compliment:
Sourced a new patient portal that lets clients schedule their own appointments online. Reduced staff phone time 45%.
Recovered $15,000 in past due accounts by setting up new automated email and text reminders system.
Slashed office supply costs 20% by working with vendor for better deals. Also put office supplies in a Kanban system, reducing waste and spending.
I'm excited to find out what I can do for you. Can we schedule a call to discuss how I can help create a more efficient front office at the Tulsa Health Clinic?
Best Regards,
[Your Name]
رسالة طلب عمل بالانجليزية
James M. Fuller
Call Center Agent
2905 Braxton Street
Westchester, IL 60154
July 4, 2019
Juan M. Hunt
Call Center Manager
Hunt's Customer Service Associates
1853 Trainer Avenue
Bloomington, IL 61701
Dear Juan,
I'm currently a call center agent for the Sinai Games family of brands, and I enjoy it quite a lot. When I saw your job ad calling for a new customer service call center representative, I immediately knew I had to apply, because I have always admired the companies which Hunt's represents.
As a call center agent with Sinai Games for over 3 years, I've developed many skills and abilities which would serve me well in the call center role at Hunt's. I'm well-versed in your product line, having spent many hours playing your various games in my spare time. On top of that, I've had several wins which I'm quite proud of, including:
Earned the record for the most customers helped / phones answered in one shift (213).
Received the highest customer satisfaction scores based on post-call survey for 2017 (97.5%) and 2018 (97.75%).
I always try to better myself, both as an employee and as a person, and I hope these few achievements show you how much I value hard work and top-notch customer service.
If you'd grant me the opportunity, I would enjoy discussing how I could bring the same level of quality and dedication to work over at Hunt's.
Sincerely,
James M. Fuller
رسالة تقديم طلب وظيفة باللغة الانجليزية
Your Name
Title
Current Company (If Any)
Mailing Address
Phone Number
Email Address
Date
Hiring Manager Name
Title
Mailing Address
Phone Number
Email Address
Dear [Hiring Manager Name],
When my team at Survana Digital received the 2017 AVA Digital Award for general digital production, it was a highlight of my career. That success came from my key skills in SEO, leadership, and email marketing. That's why I'm so excited that Apex August Media is looking for a new marketing manager.
Apex August has a reputation for running massive-ROI digital campaigns with strong SEO and email marketing. Your ad says you're looking for a marketing manager skilled in those two areas. This job is the perfect fit because of my AVA Digital Award, my 6+ years of experience as a digital marketing manager, plus these achievements:
SEO. Ran six successful client SEO campaigns, boosting site authority 28% and scoring top 3 SERP positions with 75% of posts. Three of my campaigns reached 1M+ per month in traffic.
Email Marketing. Created 30+ client email campaigns with a 28% open rate. Slashed churn by 32% over the previous marketing manager and cut bounce rate by 29%.
Leadership & Sales Funnel Management. Worked to integrate sales funnel across digital marketing and sales teams. Raised awareness for 15 client brands by 25% and raised sales for 3 clients by over $1M/year.
I'd be happy to talk more about how I can help strengthen digital and email campaigns for your clients. Let me know if you'd like to schedule a call.
Best Regards,
Heidi Wolff, Marketing Manager 
نموذج ابلكيشن وظيفة بالإنجليزي
Lisa R. Santos
High School Teacher
2889 Devils Hill Road
Jackson, MS 39211
601-628-0535
[email protected]
linkedin.com/in/lisazrsantos
6/5/20
Granville Sullivan
Principal
Randal J. Washington High School
3310 Washington Avenue
Jackson, MS 39211
Dear Mr. Sullivan,
As a passionate teacher with 1 year of experience, I'm very enthusiastic about your teacher job opening at Randall J. Washington High School. I read your job offer thoroughly, so I know you're seeking a candidate who can engage students, grade quizzes, and foster communication between parents and teachers, making sure all parties stay abreast of student progress. I believe my resume will interest you, particularly because of a few of my education accomplishments from the past year.
Working as a substitute teacher in 2019, I received Teetle High School's Most Engaging Teacher. During that year, I graded 100+ quizzes assigned by long-term teachers, subbed a total of 70 days, and communicated with over 100 parents and teachers to track student progress in an engaging and supportive way.
The thing that interests me most about serving students at Randal J. Washington High School is your focus on creating an inclusive classroom environment. That fits well with my belief that students of all backgrounds should have a comfortable, engaging place to learn and grow. I would value the opportunity to discuss how my writing, public speaking, and conflict resolution skills can help your school continue to improve its quality of education. Could we set aside some time next week to meet?
Best regards,
Lisa R. Santos
High School Teacher
601-628-0535
[email protected] 
نموذج طلب توظيف بالإنجليزي
Rachel Schuli
Elementary Teacher
1951 Mount Olive Road
Alpharetta, GA, 30201
678-867-1827
[email protected]
linkedin.com/in/rachelschuli
Alpharetta, 1/30/2019
Principal John Kovalsky
Greenhill Elementary School
3016 Elk Creek Road
Alpharetta, GA, 30201
Dear John,
As a passionate early education teacher with 5+ years of experience teaching 1st to 6th graders, I was thrilled to see your opening for an elementary teacher position. I'm a great fan of the modern teaching techniques you implement at Greenhill Elementary School and I'm sure my expertise in context-based teaching may contribute to your institution. In my previous position, I designed a course of weekly extra lessons that took place in museums and other cultural and scientific institutions. During the classes kids had an opportunity to talk to artists, journalists and science people.
At ABC Elementary School, where I previously worked, I created state-level authorial lesson plans that combined various curriculum elements and incorporated a number of technological novelties. I know that what you value the most is versatility, modern approach and teaching based on real-life examples. I followed all these ideas when preparing students for class tests—which resulted in 30% test scores improvement in the course of 6 months.
What I also love about teaching children is that you can support their natural development on a daily basis. I'll be happy to use my knowledge about positive reinforcement techniques to create an encouraging learning environment and help kids reach learning goals at their own pace.
Can we schedule a call or a meeting next week to discuss how I could bring my teaching experience and skills to one of your classrooms?
Sincerely,
Rachel Schuli
678-867-1827
[email protected] 
نموذج طلب عمل بالانجليزية
David Johnson
Spanish-German-English Translator
3291 Maxwell Farm Road
Sacramento, CA 95814
530-890-6297
[email protected]
linkedin.com/in/Davidjjohnson
5/6/2019
Lily Ryan
Head of Translation Department
Lingualytics LLC
2800 Adams Drive
Houston, TX 77006
Dear Ms Ryan,
As a proven translator, I was thrilled to see the job opportunity at Lingualytics. In the past year at TransRate, I consistently achieved a 100% accuracy rating on written translations and 100% positive customer feedback on live interpreting. I'd love to apply my language and communication skills towards Lingualytics continued success through providing precise, user-friendly translation services.
Having spent over 4 years in the translation/interpretation industry, I know exactly what you're looking for in a prospective hire when mentioning the words "reliable" and "detail-oriented." Fortunately, I bring that to the table and more.
When I began working at TransRate 3 years ago as a Junior Translator, I quickly realized that the key to advancing my career was constantly improving my skills. I did exactly that by attending additional courses and completing specialized training programs. Within 6 months, this resulted in a 65% reduction in errors pointed out in my translations by proofreaders. On top of that, I now sport certificates in medical, legal, and technical translations.
It would be amazing to work for a company whose values and goals are so closely aligned with my own. I have to say that I entirely agree with your approach to implementing more integration with neural machine translation and putting more focus on transcreation, rather than limiting the scope of the company to simple translating services. An open-minded, forward-thinking approach is especially in the current, ever-more globalized, industry.
I'm eager to discuss in more detail how my skills can become one of Lingualytics key assets. I'd be thrilled to show you how I can contribute to building upon Lingualytics' already stellar reputation as a language service provider.
Best regards,
David Johnson, Translator 
إقرأ أيضا
ايميل طلب وظيفة بالإنجليزي 
نموذج رسالة طلب عمل
رسالة طلب وظيفة بالإنجليزي
20 نموذج سيرة ذاتية بالإنجليزي